Hi everyone,
AuronnBE was talking about an old PC he came across at his parents in law. It appears that it has been shuffed away on the attic collecting dust. He first wanted to sell it on a flea market, 'cause he thought it would be worth a lot of money 😉 He asked me what the prize would be by sending me some pics, serial numbers, etc… but by the first looks, i said i would give him 10 euro for it. It was hard to find anything about it in google and my guess was that it could be an XT or 286. On all components there was one common name : Admiral. I think it must have been some kind of assemble name they used in the early years to group all the components so they match and are assembled together in 1 piece, but i could be wrong.
Months later, AuronnBE gave me the old PC as a present, so i could take a look at it and try to get it working. It came with an old monitor, printer, keyboard & mouse. The funny thing about the mouse is the mouseholder, which brings back a lot of memories. Also it was a genius mouse 😉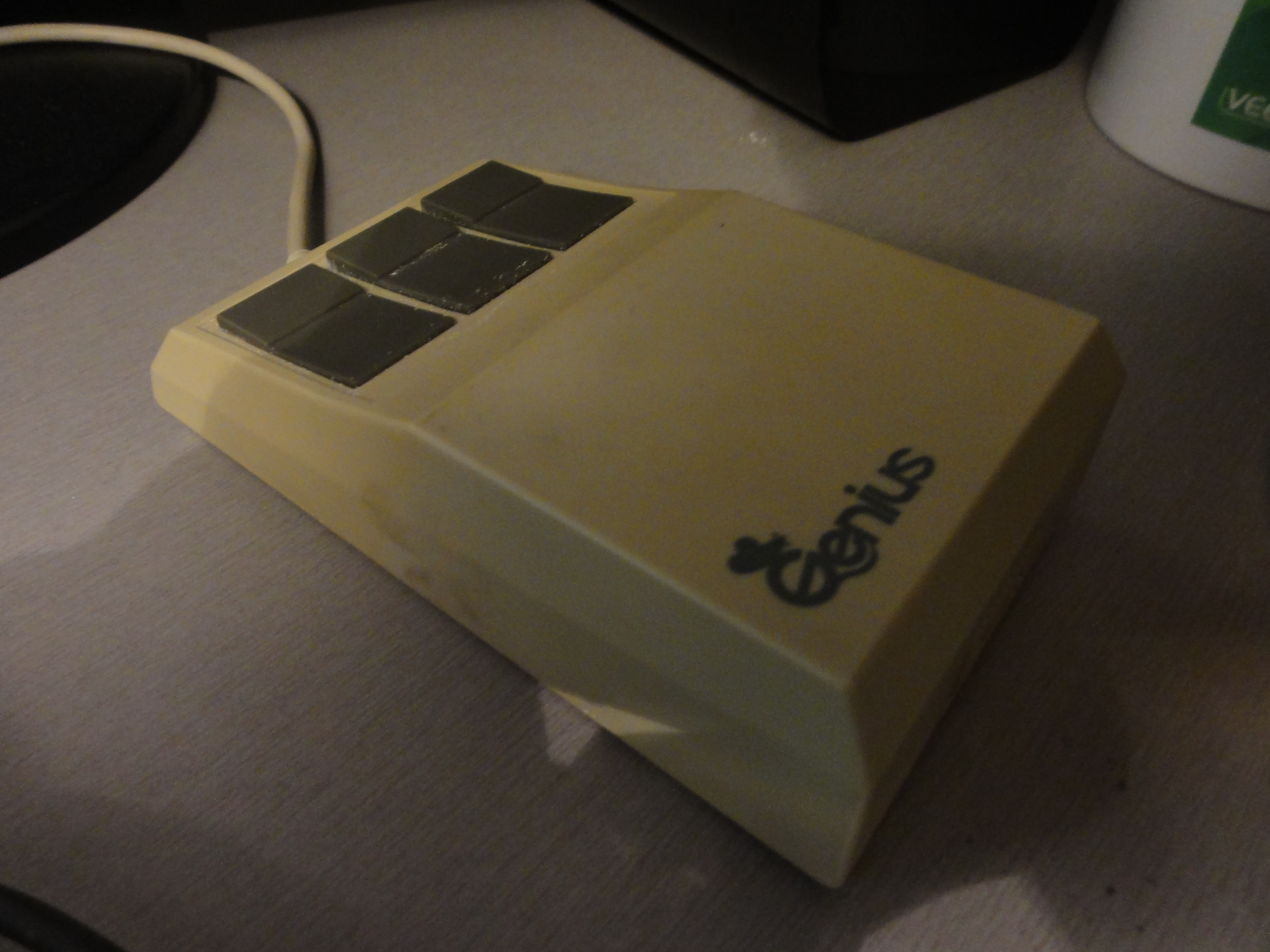 First thing i did was take a look under the hood and see what components / interface cards i could find :
The first thing i noticed was the monitor connector which was not an ordinary VGA one, but an earlier one, maybe EGA, CGA or hercules (monochrome). I was obliged to use the old monochrome monitor that came along with it.
A floppy drive / harddisk interface card was also present.
A third interface card is there to be able to control a mouse via the COM1 port & hookup a printer on the parallel port (LPT1),
2 floppy drives are present : 1 with 5 1/4 floppies & 1 with 3 1/2 floppies. (I also got a 5 1/4 floppy with MS-DOS written on it).
A harddisk was also there : interesting … i immediately checked its specs and came across the following properties; Seagate ST-251. (http://www.driveparameters.com/Seagate/ST-251/). Checking this item on e-bay i saw that they sell these for an average of $75 !!!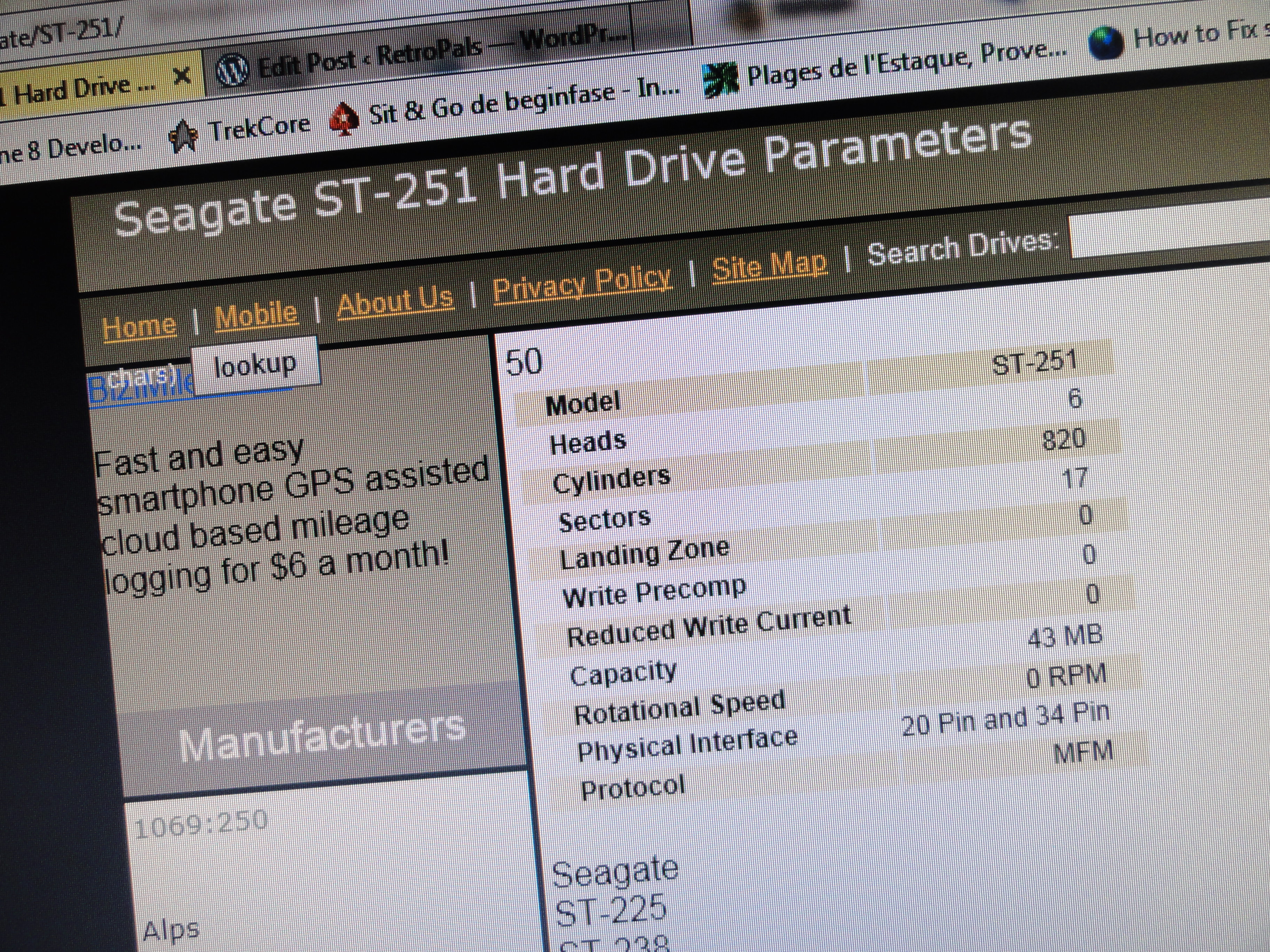 Now it is ready to start this baby … After setting everything up i pulled the red button from 'Off ' to 'On'. First thing i heard was a big sound … guess what … it was the harddrive initializing … i remember back in the day when i had my first PC XT, i had similar sounds, so i had a little feeling of nostalgia when hearing that.
There it was on the screen : 286 … no doubt any more this baby is a 286.
Oops … "Battery empty" message appears on the screen 😉 No big deal i thought, just go into the BIOS and fix this quickly. Hmmm .. how do i go into the BIOS ? Beeeeep … please choose F2 to enter BIOS ? … That one was easy 😉
Man … this BIOS menu is very old … and so basic … i tried to setup the harddrive by entering the sectors, headers, cylinders, … in user mode and tried to restart it up again. I shut it down and start it up again … again the sound like a slow machine getting ready to do some work 😉 Wait a minute … what's that smell ? OMG … smoke … smoke …. and a strange sound …. my reflexes tell me to shut down the machine. Bad news … the harddrive is hot and smells almost like a barbecue ! I think these things happen with hardware that is over 20 years old ! Is this really the end ?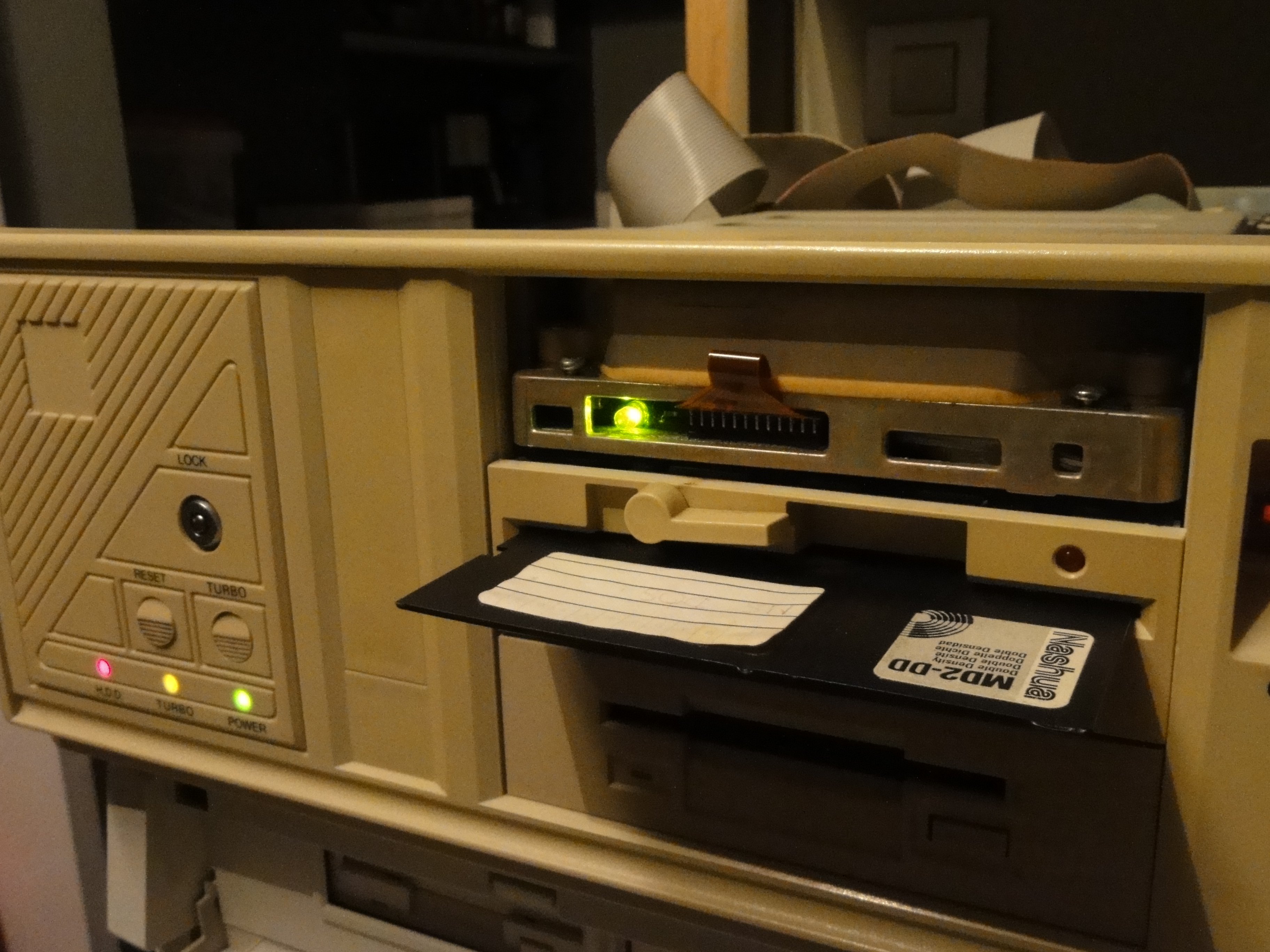 A pitty, i was looking forward to run some old games on it.
Guess what ? Strange things happen with old machines … i don't know why, but i just went back after a full reboot to the BIOS and thought i give it another try. I went to format section of the BIOS and initiated that procedure … and it works !! I see that it has difficulties with some sectors, but hey … i don't care … as long as i can access a 'C:\' afterwards … i would be very happy. I think i am going to install DOS 6.22 on it and maybe switch over to a VGA card !
I managed to get DOS 6.22 on it and got it configured so it booted up from the harddrive. Let the nostalgia begin 😉
First i want to know some more about its internals, so i run Checkit 3.0, a well known diagnostic program from back in the DOS era. What is its speed, what graphics device is used, how fast does it goes, how slow is the harddrive 😉 etc …
Secondly, let's play some vintage games … since this isn't a VGA compatible PC, i had to think what games support hercules monochrome graphics device. Quickly i came upon the beautiful Prince Of Persia … and Barbarian ! 2 really old games that were well known back in the day. Since there isn't a soundcard present, all sound of those games plays through the PC Speaker. Yeah … i know what you are thinking that it's crap, but think about it … when you startup Barbarian and out of that speaker someone cheers : "Barbarian" .. i can assure you when i first heard that 20+ years ago … for a whole month a had a smile on my face because that was so amazing ! Space Quest 1 is also one of my favorites, because i've spent ages figuring out what to do …
I created a little vid about the former 2 topics, so just watch and enjoy :
Vulturius – once a gamer always a gamer !