Writing my introduction to this blog a few days ago and reminding myself which games/console versions I still really need in my collection. I started thinking if I could create a Top 5 or Top 10 wanted list.
What are the games I really want to see in my collection, rather sooner than later. But you'll all know that finding that gem for a good price can take months to years.  So I will try to update this list a few times a year and put on the price I paid for an item.
Of course, I could fill my top with the Nintendo World Championship Gold Cartridge that just hit Ebay: http://www.ebay.com/itm/1990-Nintendo-World-Championships-Competition-NWC-Gold-Cartridge-VGA-85-NearMint-/130967136897. But that's not what the intention is for this list. I want to make it a personal list based on nostalgia and what I want the most in my collection and which are within my grasp. Adding a short background story to every entry should finish it off.
Want List:
5) Expanding the Final Fantasy collection – Not really a goal I can ever complete, but I'd like to add it for now as I don't have any other game that is a high priority object. A part of my FF collection is still in the US, I left it there after my 3 months there waiting for me to return. So I hope to eventually being able to show you guys everything FF related in my collection. But know that it is the backbone of my collection. Strange is that I don't even like the XII and XIII installment, luckily I'm having a good time now in FFXIV : A Realm Reborn. Although it isn't that classic RPG feeling (it's an MMORPG)…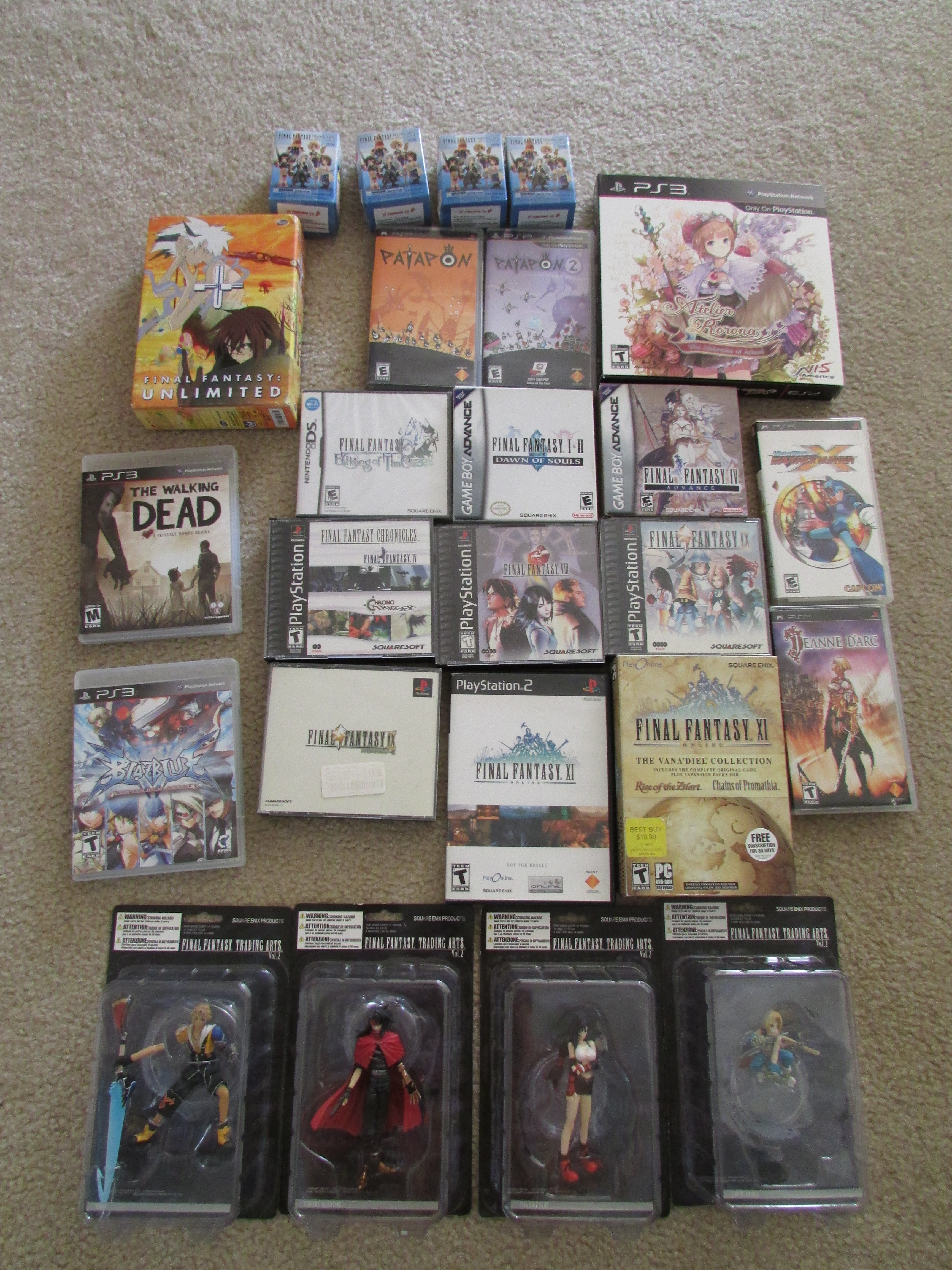 This is 80% of what I bought when in the USA for 3 months this year.
4) Any Game & Watch – I've seen these devices pop up when I was searching for retro games and got quite interested in them. What I also noticed is that they sell pretty expensive, especially the ones complete in box (CIB). I've never had them, but know the concept. I hope that I hit one or a few sometime when meeting up with friends/family or who knows, on a flea market or garage sale. I'll be sure to post about it if I find one.
Donkey Kong Game & Watch
3) boxed NES console – I've got one, honestly I've got a few, but I haven't got a boxed NES console yet. I hope to spot one for around 40 euro in pretty good condition, just as I did find my SNES boxed on a retro video game convention. 60 or 70 euros is not what I want to give for this console. These keep popping up frequently, so my hopes are high this won't take to long to get.
 this one would look good in the collection
2) Super Widget (SNES) – Owned by a nephew of mine and it got my nephew, my brother and me hooked each time we played together. I emulated it a few months ago via an emulator and I saw that jumping is a little of getting used too. But I just love how 'Widget', our hero, transforms in all kinds of forms. The game is very rare in the EU and I hope to spot one on a flea market with someone who doesn't even know what he has.
 Super Widget box art
1) Mega Man X (SNES) – A game I had in my childhood and played for hours. It was the light blue version of the box. I was able to finish it when I got a little older, but I remember the final boss fight as quite difficult for my age. I had a piece of paper with all the passwords on too and I earned them myself. Didn't get them online :). Later on I discovered some secret locations via the internet which gave the game a lot of replay value. I really miss this game in my collection and the price in the EU is still going up.
 Megaman X gameplay
So there's my list. I hope to update it regularely and to get a hold on some of them. Also I would like to hear what you have on your 'Wanted List'. Maybe I can put together a 'Most Wanted by the world' topic later on.
-Auronn