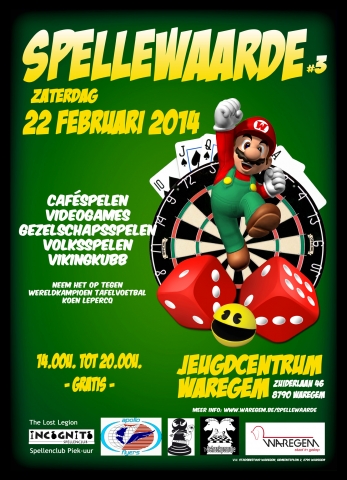 Saturday is a big day for the RetroPals and Vulturius as he will present a brand new concept: RetroLanGaming. There is a small convention close by named 'Spellewaarde' where we will beta-test a new gaming experience which we can possibly present on bigger conventions in the future. Spellewaarde, previously known as Spellebeurs, focuses on all different kinds of games, from family games to classic games from the bars and of course video games. We already have some collectors and friends coming our way to test out the stand, but we can always use your expertise and testing skills as well!
RetroLanGaming is a simple concept where 4 players will be able to play 5 different games in multiplayer on the original hardware, as they are meant to be played! The games are Doom 1 and 2, Duke Nukem 3D, Heretic and Hexen. The stand is set up so contestants will not be able to see each others monitor. For the first tryout we will mainly focus on death matches and see how the reception is. All matches will be recorded and if we have enough footage, we'll put a phat trailer together afterwards.
Again, this is a beta and first try, so we are eager to see how everything develops and if the visitors enjoy the experience. Hopefully this is the start of something great which we can further develop and showcase around the country… I would also like to state from the start that the idea arose from the mind of Vulturius and I will be there to assist him in any way possible. Join us!
More info and where you need to be can be found here: http://www.waregem.be/jeugd/spellewaarde
The party starts at 14:00! See you on Saturday, come and have a chat!