Damn, that title says it all… any readers left?
The plan today was to write a blog to warn all of you collectors that a deal is only complete when you have the goods in your hands. Until that moment there's always a chance the deal is off or someone scammed you. I had 2 pretty expensive deals that I had already payed for via bank transfer getting cancelled.
The first one was an Xbox 360 with some games for a buddy of mine, everything was ok, the money was transfered right away, when I got an email stating: "Hi AuronnBE, I received your money this afternoon, but someone gave me 20 euros more and came to get the console this morning, I'm transferring the money back." I was shocked, staring at my screen… Did I have people cancel the deal at the last moment? Yes of course, but never had I someone cancel the deal when he knows I payed for it.
The second deal that got cancelled was the 18 big box pc games I already wrote about. The seller had checked the games before he packaged them and noticed 3 games were missing: Quake, Broken Sword & Red Alert. Three games I was planning to keep and Quake being one of the more expensive games in the package. He tried to make a new deal and sent some money back, he was a really honest man, but the lot had lost its charm.
These are things you have to get through as a collector and after all, they aren't the end of the world. Get over it and find yourself a better deal…
And did I get a better deal…
4:45PM, a NES with 4 games, no price or photo, popped up on a Belgian variation of Craigslist, being only a 20 minutes drive away. I emailed the guy, asked if it would be boxed by coincidence and what his asking price was, adding a 30 euro bid at the end. I got an email back an hour later… the console was boxed, the games were boxed and he gave me his phone number and… 30 euro was very good. The adrenaline was taking over: When, Where, How? Tell me now! He even laughed a little bit when I asked if 30 euro was good, sounding like it was much more than he expected, I couldn't care less.
Arriving at the place, I still had some doubts how the state of the boxes would be, as I hadn't seen any photo, but sometimes, you gotta take someone for his word. One glance at the lot and I knew it… JACKPOT! The console is 100% complete, the foam being in perfect condition, 3 of the 4 NES games were complete, only Turtles missing the manual, again, I couldn't care less.
Finally I found my boxed NES console! Those of you who read my first blogpost: "Who's keeping a want list?" know it was number three on my want list after two expensive SNES PAL games, Super Widget and Mega Man X. Stating this is my holy grail in collecting is probably pretty strong, but still… I'm the king of the world!!!!!
The box art of Blue Shadow is so cool: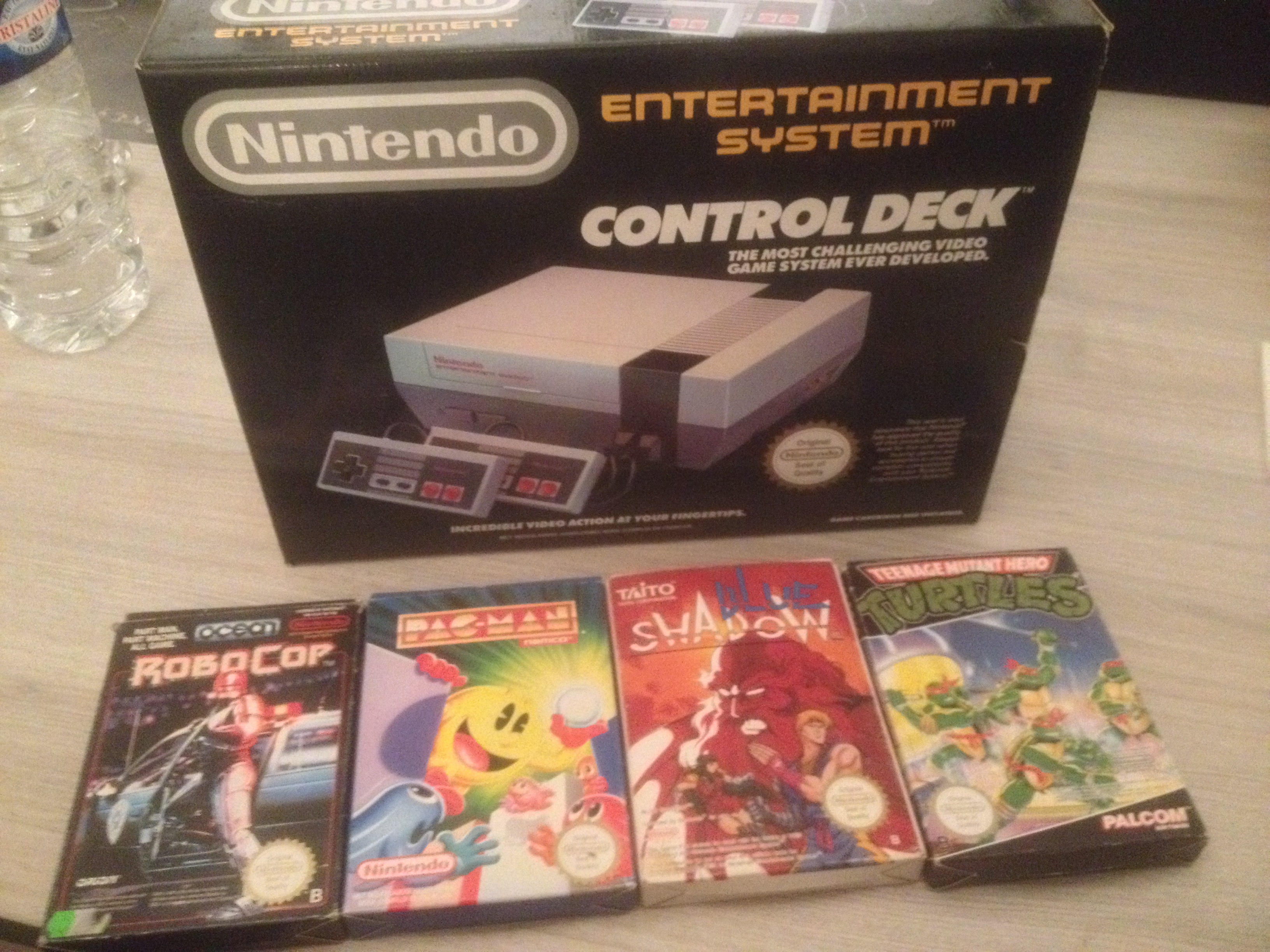 Look what an awesome surprise he had in the Turtles box, he wanted me to check it when I got home. I think I'll need to hang this up: